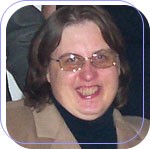 Susan Emery
Montgomery County Chapter Chair
Executive Director
I'm from Warren, MI. My stroke came early in life, at the age of 9. I was playing a game with
brothers and friends, and fell over unconscious. As a result, I have weakness on my right
side and slight aphasia. I got my Bachelor's Degree in Computer Science from Michigan State
University, and my Master's Degree in Telecommunications Management from the
University of Maryland/University College. I worked for 30 years in the technical field. In
2008, as the economy went "bust", Dorita DeLemos Down and I created a 501c3/non-profit
company called Circle of Rights, to make people aware of the devastating impact of stroke
not only for the stroke survivor but for the family. Circle of Rights has completed a three-
year strategic plan, and is growing to include other communities in the Washington, D.C.
area. Currently, Circle of Rights is presenting CDC-derived material on stroke risk factors,
and has several support groups for stroke survivors and caregivers.
---
Nikita Guest
Prince Georges County Chapter Chair
I'm from Queens/Long Island, NY.  I earned a Bachelors degree in Psychology from Queens College in 2010. After that, I moved to Prince Georges County, Maryland. I'm fond of helping others in need, starting out as a Qualified Mental Health Professional in a group home and then transitioning  to a case worker in DC, helping people who are suffering from mental illnesses.  In November 2014 I had my first child, a daughter named Thalia.  A few weeks after, in 2015, I had a stroke in my home. I was home alone with my daughter.  I wound up at Georgetown Hospital where the doctors told me I have high cholesterol and a PFO, patent foramen ovale, in my heart.  I spent 5 weeks in the hospital and of those, 3 weeks where I couldn't talk.  I have had physical, occupational, and speech therapy at Inova Mount Vernon Hospital to get me where I am today.  I met Susan Emery at the Young Stroke Group in Rockville in 2016 and starting working with Circle of Rights in early 2018. My personal mission is to bring stroke awareness to PG county so that another young person doesn't have a life-altering medical condition at the prime of their life.